Welcome to FU-Fighters!


The FU-Fighters is the robotic soccer team of Freie Universität Berlin. We compete in the Small-Size League (robots up to 18 cm in diameter) and in the Middle-Size League (robots up to 50 cm in diameter). We have been competing since 1999. Here is a brochure (pdf) describing our robots. We are now also developing "Spirit of Berlin", an autonomous car!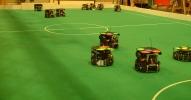 The Team 2006

Jannes Arnold, Felix Franke, Ketill Gunnarsson, Barbara Haupt, Bastian Hecht, Martin Klein, Ioannis Kyrykos, Achim Liers, Hamid Moballegh, Mojgan Mohajer, Raúl Rojas, Fabian Ruff, Bettina Selig, Mark Simon, Oliver Tenchio, Bastian Venthur, Miao Wang, Fabian Wiesel.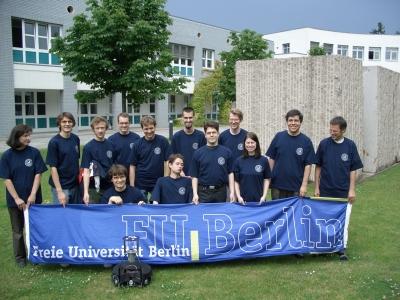 Former team members and team photos
1999a, 1999b, 2000a, 2000b, 2002, 2003, 2004, 2005a
Peter Ackers, Sven Behnke, Erik Cuevas, Artem Petakov, Anna Egorova, Holger Freyther, Bernhard Frötschl, Alexander Gloye, Cüneyt Göktekin, Andreas Haferbur, Henning Heinold, Felix von Hundelshausen, Markus Kettern, Lars Knipping, Felix König, Kirill Koulechov, Wolf Lindstrot, Marcus Liwicki, Marian Luft, Manuel de Melo, Jong-Gill Park, Artem Petakov, Slav Petrov, Andreas Schebesch, David Schneider, Michael Schreiber, Andrea Schuhmann, Martin Sprengel, Thomas Sundermann, Daniel Szer, Lars Wolter, Daniel Zaldivar