RoboCup

2004


FU Fighters are World Champions!


At Saturday, the FU Fighters small size team won the final game against the University of Queensland, Australia with 2:1. Lucky Star from Singapur, our opponent in the semi final match, have finished third. Here is the result list of all FU Fighters' matches in the small size league:
June 29 (round robin)
16:00
Wright Eagle vs. FU Fighters
0:8
June 30 (round robin)
17:00
FU Fighters vs. 5DPO
8:2
July 1 (round robin)
10:00
KIKS vs.FU Fighters
0:10 (9 min)
16:00
TPOT vs.FU Fighters
0:10 (given up)
July 2 (quarter final)
15:00
FU Fighters vs. Vienna Cubes
3:0
July 2 (semi final)
20:00
Lucky Star vs. FU Fighters
0:1
July 3 (final)
14:30

RoboRoos

vs. FU Fighters
1:2
Our larger robots have finished fourth in the middle size league. We have also won a RoboCup Engineering Award 2004 for our computer vision.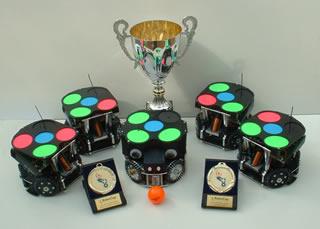 The FU-Fighters small size roboter with the worldcup